Prosecutors in Baltimore on Wednesday dropped all of the remaining charges against three city police officers who were awaiting trial for Freddie Gray's death, ​according to CNN. Prior to the charges being dropped for these officers, three additional officers originally tied to the case had already been acquitted.
Freddie Gray's death highlighted the harm that can come to any black person at the hands of the police, making many Americans wonder if they should fear those who are meant to keep us safe. According to The New York Times, after Gray died from a spinal cord injury in April 2015 while in police custody, many speculated that his death was linked to yet another instance of police brutality and negligence. This theory emerged due to a heavily circulated cellphone video, which showed Gray screaming, his legs mostly limp, as he was dragged into a police transport van. Gray also was not secured with a seatbelt while traveling in the van.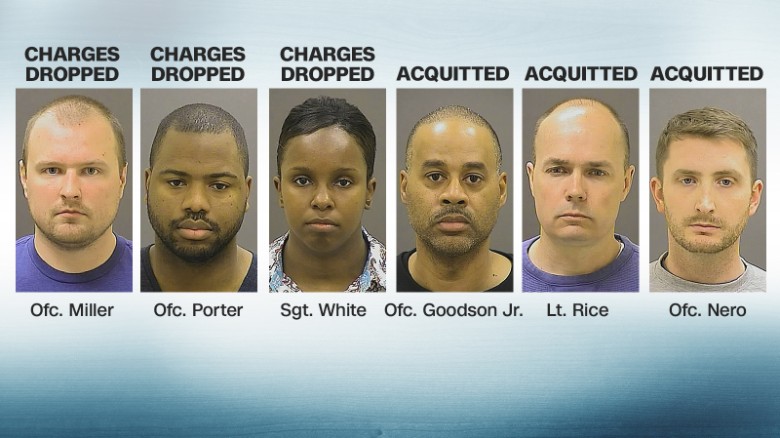 Many were hopeful that Gray's case would lead to conviction and punishment for the officers involved. When the investigation had originally begun, Baltimore State's Attorney Marilyn Mosby publicly stated, "No one is above the law." Mosby, who ran for state attorney on a promise to prosecute police brutality, implied that police officers involved in the case should not receive special treatment.
After the charges were dropped for the remaining three police officers, Mosby made her anger clear to reporters. According to CNN, she said that "the criminal justice system needed real, substantive reforms in order to handle a case like Gray's" and that "we could try this case 100 times, and cases just like it, and we would still end up with the same result." She continued to explain to the public that she is not anti-police, but she is against police brutality—which is the real issue at hand.
While America is rightly irate and disheartened by the outcome of the case, we need to remember, just as Mosby stated, that "the only loss—and the greatest loss—in all of this was that of Freddie Gray's life."