"I just can't drink like I did in college anymore," said every graduette ever.
It's true. For many of us, a year or two of living in the real world has left us with lower alcohol tolerances, rusty shot-taking skills and zero desire to get off the couch on a week night. While we apologize to our besties for being "lame grandmas," we're actually just normal, maturing adults. So what if we can't drink like we did in college? That's actually a very good thing.
We've graduated from mysterious fraternity jungle juice and chasing vodka (aka nail polish remover) shots with whatever we can find (read: Gatorade, water, milk). We're ready for grown up drinks, and we're lucky to be putting those college hangovers in the past.
Here are a few classy cocktails to get you started:
1. Sangria: because wine and fruit are soul mates
Recipe courtesy of allrecipes.com
Ingredients:
1 bottle of dry red wine
1 ½ cups of rum
½ cup white sugar
1 cup orange juice
1 lemon
1 lime
1 orange
Directions:
Have the fruit, rum, wine, and orange juice well chilled.
Slice the lemon, lime and orange into bite-size pieces and place in a large pitcher.
Add the rum and sugar.
Chill in refrigerator for two 2 hours.
Lightly crush the fruit with a wooden spoon and stir in the wine and orange juice.
Close your eyes and imagine yourself on the beaches of Barcelona...
2. Mojito: for the mint lovers
Recipe courtesy of epicurious.com
Ingredients:
2 tablespoons fresh lime juice
2 heaping teaspoons superfine sugar
1 cup crushed ice
12 fresh mint leaves
1/4 cup white rum
2 tablespoons club soda
Directions:
Combine lime juice and sugar in a tall glass (approx. 10 fluid ounces); stir until sugar dissolves.
Add 1/4 cup crushed ice.
Rub mint leaves over rim of glass, then tear leaves in half and add to glass.
Add rum, remaining crushed ice, and club soda.
Stir gently.
Approach cute guy across the bar with your newfound confidence and minty fresh smile.
3. Old Fashioned: to feel like you're on Mad Men
Recipe courtesy of liquor.com 
Ingredients:
4 dashes Angostura Bitters
1 teaspoon sugar
2 orange slices
2 cherries
1 splash Club soda
2 ounces Bourbon
Directions:
Mix the bitters, sugar, orange wheel, cherry and a splash of soda in a rocks glass (short glass).
Remove the orange rind.
Add the bourbon.
Fill with ice.
Garnish with a fresh orange wheel and cherry.
Master this drink and you're well on your way to being the next Don Draper.
4. Dirty Martini: because it sounds so classy
Recipe courtesy of allrecipes.com 
Ingredients:
6 ounces vodka
1 dash dry vermouth
1 ounce brine from olive jar
4 stuffed green olives
Directions:
In a mixing glass, combine vodka, dry vermouth, brine and olives.
Pour over ice into a martini glass.
It's impossible not to feel cool with one of these bad boys in your hand.
5. Cosmo: channel your inner SJP
Recipe courtesy of Jo Lynne Shane 
Ingredients:
3 ounces citron vodka
1 1/2 ounces triple sec or Cointreau
1 1/2 ounces cranberry juice
1 lime
Ice
Directions:
Fill a cocktail shaker with ice.
Add vodka, triple sec, and cranberry juice.
Squeeze in lime juice.
Shake and pour.
Sarah Jessica Parker knew what she was doing! Don't forget to wear something fabulous.
6. Margarita: to complement your guac obsession
Recipe courtesy of Chow 
Ingredients:
Salt, for rimming the glass
Ice
1 1/2 ounces tequila
1 ounce freshly squeezed lime juice
1/2 ounce Cointreau
Directions:
Place salt in a shallow dish.
Moisten the rim of a rocks glass with a dampened paper towel, then dip in salt.
Fill the glass with ice.
Add tequila, lime juice, and Cointreau.
Stir until chilled.
Put on your salsa dancing shoes and you'll be feeling hot, hot, hot!
7. Moscow Mule: gotta love ginger beer
Recipe courtesy of A Beautiful Mess 
Ingredients:
2 ounces vodka
Ginger Beer
Juice from half of a lime
Ice
Directions:
In a tall glass with ice, combine vodka and lime juice.
Top off with ginger beer.
And if you really want to feel fancy, serve in a copper mug. 
8. Tom Collins: a vintage classic
Recipe courtesy of Chow
Ingredients:
Ice cubes
2 ounces gin
1 ounce freshly squeezed lemon juice
1 teaspoon superfine sugar
4 ounces club soda, chilled
1 thin lemon slice, for garnishing
Directions:
Drop a handful of ice cubes into a cocktail shaker and add the gin, lemon juice, and sugar.
Shake until cold, about 15 seconds.
Pour into a chilled Collins glass filled with ice cubes.
Your dad will be totally impressed. Either that or he'll cry that his "baby girl is all grown up."
9. Gimlet: because it's so refreshing
Recipe courtesy of The Food Network 
Ingredients:
2 ounces gin
3/4 ounce fresh lime juice
3/4 ounce simple syrup
Cucumber wheel or lime wedge, for garnish
Directions:
Fill a cocktail shaker with ice and pour in the gin, lime juice and simple syrup.
Stir vigorously with a long cocktail spoon until very cold.
Strain into a chilled coupe or martini glass, or strain over a rocks glass filled with ice.
Garnish with the cucumber wheel and serve immediately.
Kick up your heels and sip slowly—they pack a punch!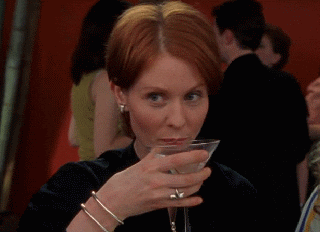 Get familiar with these delicious recipes and you'll never miss your college drinking days again. Bottoms up!