This article has been syndicated to Her Campus from Sara Laughed, an InfluenceHer Collective member. Read the full post here.
As a college senior, I've had my fair share of dorm rooms by now; from an underground triple (yes, really!), to a little room in a big city, to a quiet single facing the woods. Even so, I get so excited about decorating my dorm room every year! So when Bed Bath & Beyond reached out to me about introducing you to their college collection, I was totally on board. Today, I'm showing you my dorm style and sharing a few of my favorite new dorm items for this year, featuring Bed Bath & Beyond.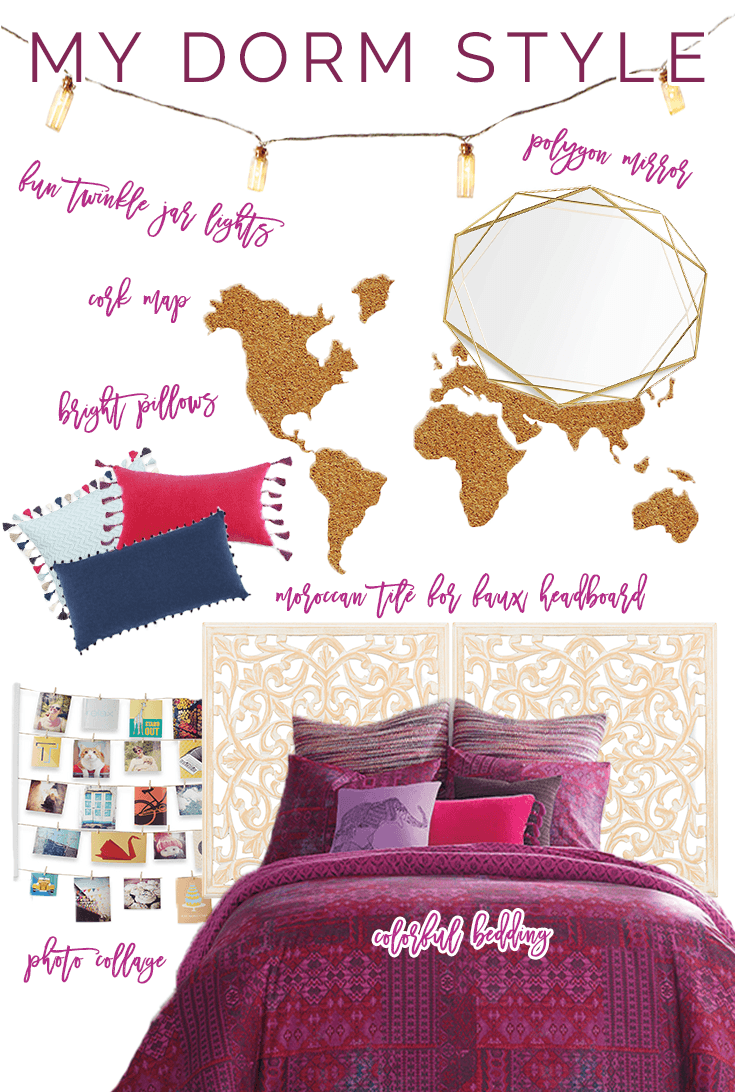 Here's the mood board I put together for my dorm style. I wanted it to feel vibrant and cozy, with a dash of world traveler (via the cork board map and Moroccan tiles) and reminders of home (from the photo collage). I stopped by Bed Bath and Beyond to pick up a couple of the items from my mood board to decorate my room!
Shopping at Bed Bath & Beyond was really a really fun and easy experience. They had a Student Life Checklist that included all the college living essentials, which made my trip a lot easier. Even better, they also had specific school info sheets available that listed what was and wasn't allowed in your college's dorms, what the school recommended for supplies, and even small details like the school's bedding size. Because I'm a former RA, I knew my college's requirements by heart, and I was really impressed that the Bed Bath & Beyond school info sheet had them all right!
So how do you make your dorm room actually feel like home?
1. Figure out what your style is
Putting together a mood board really helped me figure out which trends and styles caught my eye. You could make a dorm room Pinterest board for this purpose, pinning images of dorm rooms and decor you like. It'll help you notice the trends and colors that appeal to you!
2. Invest in a few wall decorations that will liven up the space
I chose a fun photo string collage to bring some color to my wall, but you can find something for any style to serve the same purpose. A tapestry or wall hanging would work, or you could use a poster or an eclectic collection of photo frames.
3. Add touches from home
Photos, stuffed animals, a cozy blanket from your bedroom: these are all great ways to add a personal and homey touch to a new space. I have brought my childhood stuffed owl with me to college every single year. Don't be afraid to bring in things from your old life to your new one; chances are, your new roommate will be doing the same!
Read the full post here.