Stores like H&M and Forever 21 are great for budget-friendly finds, but after a while, they can start to get a bit old—especially when you and your friends end up realizing you've all bought the same dress. So what's a girl who wants to stand out without breaking the bank to do? It turns out that there are tons of amazing online shopping destinations (that you've probably never heard of!) with super chic finds. In need of some retail therapy? Read on.
1. Tobi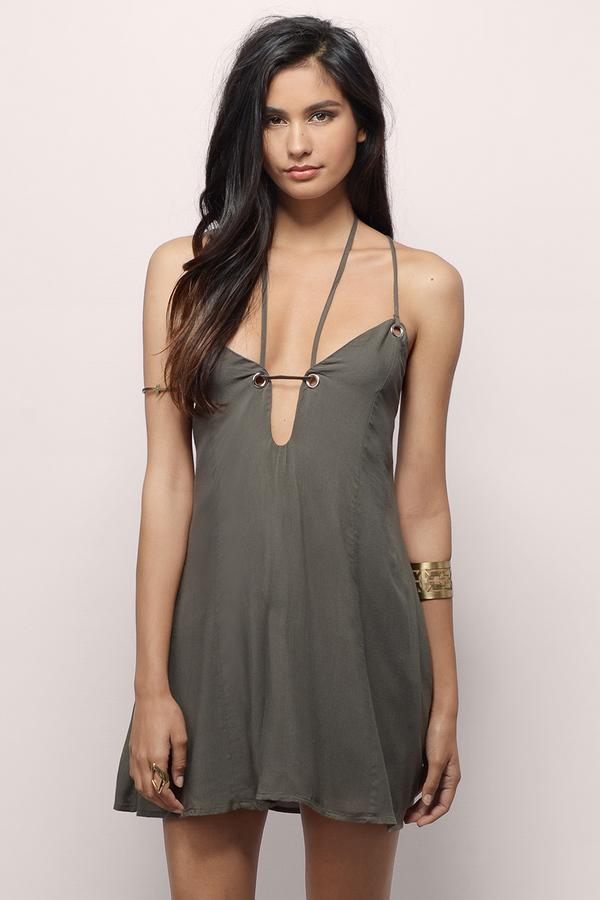 Our pick: Theresa Shift Dress ($46)
With frequent sales and a coupon for 50 percent off your first order when you sign up for emails, Tobi is basically every college girl's dream when it comes to getting on-trend pieces at a price that won't make you totally freak out the next time you check your bank account.
2. Oak + Fort
Our pick: Blouse F88 ($58)
If you're a minimalist who likes simple looks in neutral hues, you'll love Oak + Fort. Think cool-girl slip dresses and flowy, oversize pieces that resemble Theory or Helmut Lang… without the sticker shock, of course.
3. BNKR
Our pick: The Fifth Above and Beyond Pant ($100)
Who knew Australian fashion was so great? BNKR offers up some of the best indie Aussie fashion designers at prices that are great for when you want to treat yourself to something extra nice.
4. Society6
Our pick: Leggings in Beverly III ($39)
The concept behind Society6 is pretty simple: the site allows you to get artwork from tons of super talented artists printed on pretty much anything, and the possibilities are endless. We're talking leggings, tank tops, hoodies and even home décor like rugs, bedspreads and shower curtains.
5. Pixie Market
Our pick: Chambray Tassel Top ($56)
Their former Lower East Side boutique was once the best-kept secret of plenty of stylish NYC girls, but Pixie Market has shifted to being exclusively online. Luckily for those of us not based in NYC, this means plenty of opportunities to pick up pieces that look way more expensive than they actually are.
6. Lulu*s
Our pick: White Crow Austin Brown Corduroy Mini Skirt ($58)
For those of us who love to hit up Forever 21 but don't feel like swimming through racks and racks of clothes in store, Lulu*s is the place to go. The pieces are on-trend, but shopping online allows for a much calmer shopping experience.
7. Storets
Our pick: Raura Ruffled Sleeveless Blouse ($62)
If Oak + Fort is a minimalist's dream, maximalist dressers will fall in love with Storets. The site offers plenty of unique pieces that you won't exactly find at your nearest H&M.
8. GoJane
Our pick: Set To Launch Faux Suede Lace-Up Booties ($30.17)
There are few things better than finding the perfect pair of shoes—and GoJane has seemingly endless options, whether you're looking for comfy flats or killer pumps.
9. Genuine People
Our pick: High Waisted Mini Skirt ($61)
Slightly random name choice aside, Genuine People genuinely (ha) offers edgy, fashion-forward pieces that look straight from the runway. If you're a Zara addict (and who isn't?) Genuine People is one you should bookmark ASAP.
When your go-to destinations start getting a little old, these amazing online finds have you covered. Happy shopping!