With Father's Day right around the corner, it's in tradition to honor the fathers in society. This includes all the dads on television that either hold qualities of your real life father or qualities you just admire from fictional characters. Looking up to a fictional dad is not something to be ashamed about. Television today (and in the past) has had some fantastic and hilarious father figures, so here's a list of the top 10.
1. Phil Dunphy, Modern Family
Phil is hilarious and always looks on the bright side of things. Although it's hard to take him seriously sometimes, whenever times get tough he's right by his family's side. Life is never boring with the Dunphy family, and Phil handles each situation with sarcasm, bad Dad jokes and tons of support.
2. Sandy Cohen, The O.C.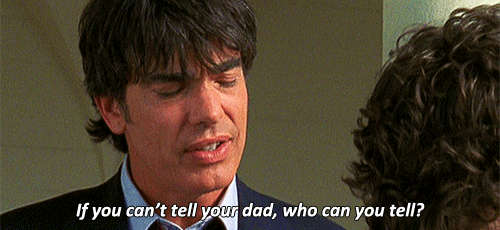 Sandy always has his kids' backs, no matter what they're going through. He's their rock and is always ready to offer a helping hand. He's willing to drop anything at a moment's notice, as we see with Seth and Sophie, and we love how he takes Ryan in as if he were his own son.
3. Danny Tanner, Full House
Danny is the father figure on television whom you basically grew up with. He makes sure to raise DJ, Stephanie and Michelle with good morals and instincts. You never leave an episode of Full House without learning a lesson!
4. Eric Taylor, Friday Night Lights
Eric may look tough on the outside, but he has a soft heart. The way he supports his daughter, Julie (and later, Gracie) is heartwarming. He's always there to give great advice and cheer Julie on, no matter what. He may have been protective over her, but only with the best intentions.
5. Mike Heck, The Middle
One of Mike's best qualities as a dad is his straightforwardness. He always gets right to the point with his three children: Axl, Sue and Brick. He's great at setting them on the right path in life. His children are all very different from one another, yet Mike juggles them like any good father.
6. Burt Hummel, Glee
Burt is the type of dad who will stand by and support you throughout anything. The dynamic relationship between him and his son, Kurt, is a fantastic example. Burt was always there to defend Kurt, acting as his rock and emotional support.
7. Adam Braverman, Parenthood
Adam always aims to give his family the best life possible. He's dependable and tries his best, even throughout the financial troubles he has in life. He has a huge heart and is probably the most realistic father on this list!
8. Sheriff Stilinski, Teen Wolf
Sheriff is smart and strong. After losing his wife, he has shown a type of strength that is incredibly respectable. His job solving crimes proves how smart he is. He has so much passion and resistance, demonstrating that a person should never give up on anything they believe in; it's a quality that his son looks up to.
9. Nathan Scott, One Tree Hill
It's impossible not to fall in love with Nathan from One Tree Hilland his relationship with his son, Jamie, and his daughter, Lydia. There is nothing Nathan wouldn't do for his children. Though we see much of his relationship with Lydia, who was just a baby when the series ended, we did get to watch Jamie grow up with Nathan as a dad—and we expect nothing less than amazing out of him. Nathan ran into a lot of bumps in life, but came out strong and brave.
10. Michael Kyle, My Wife and Kids
Michael is a goofball. Just like Phil Dunphy, he is always trying to put a smile on his family's faces. He makes a joke out of a lot of situations, but he always makes sure that he teaches his children good life lessons. 
Thank you to these fathers (and the people who created them) for inspiring us throughout our childhood and in the present. These characters have certain qualities that represent what makes a great father. With every episode, there is always a lesson learned. Don't forget to tell your dad all the things you appreciate about him this weekend and have a great Father's Day!